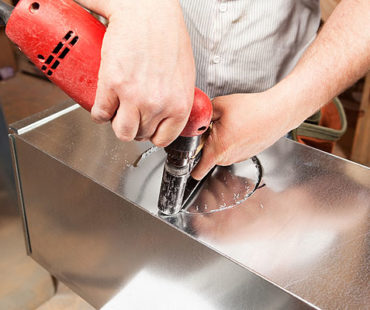 Salary Ranges
(entry level –> experienced)
$13.31 – $34.33 (hourly)
$27,690 – $71,400 (annual)
The sheet metal program requires 576 hours of classroom instruction and 8000 hours of on-the-job training.
Sheet-metal workers fabricate, assemble, install, and repair sheet metal products and equipment, such as ducts, control boxes, drainpipes, and furnace casings. Work may involve any of the following: setting up and operating fabricating machines to cut, bend, and straighten sheet metal; shaping metal over anvils, blocks, or forms using hammer; operating soldering and welding equipment to join sheet metal parts; inspecting, assembling, and smoothing seams and joints of burred surfaces.
Sheet metal workers need to be in good physical condition and have mechanical and mathematical aptitude and good reading skills. Good eye-hand coordination, spatial and form perception, and manual dexterity also are important. Primary skills needed for this occupation include: install sheet metal assemblies in supportive framework; operate metal or plastic fabricating equipment/machinery; use hand, power and precision measuring tools; braze, solder and weld metal parts or components together.
1st Year Apprentice
(144 hours classroom training, 2,000 hours on-the-job training)

Introduction to the Sheet Metal Trade
Basic Safety
Introduction to Hand Tools
Introduction to Power Tools
Tools of the Trade
Construction Math
Basic Communication Skills
Basic Employability Skills
Introduction to Construction Drawings
Introduction to Employability Skills
Introduction to Material Handling
Introduction to Sheet Metal Layout and Processes
Installation of Ductwork
Installation of Air Distributions Accessories
Insulation
Basic Rigging
Trade Math One
Fabrication One: Parallel Line Development
Commercial Airside Systems
2nd Year Apprentice
(144 hours classroom training, 2,000 hours on-the-job training)

Trade Math Two
Basic Piping Practices
Prints and Specifications
Air Properties and Distribution
Air Quality
Sheet Metal Duct Fabrication Standards
Basic Electricity
First Aid/CPR
Soldering
Fiberglass Duct
Fabrication II: Radial Line Development
Bend Allowances
Money Management
Basic Electricity
3rd Year Apprentice
(144 hours classroom training, 2,000 hours on-the-job training)

Introduction to Welding, Brazing and Cutting
Communications
Trade Math III: Field Measurement and Fitting
Comprehensive Prints and Specs
Principles of Air Flow
Air Systems
Principles of Refrigeration
Louvers, Dampers, Access Doors
Energy Conversation Equipment
Architectural Sheet Metal
Fabrication III: Triangulation
Planned Maintenance
10-Hour OSHA
Energy Conservation
4th Year Apprentice
(144 hours classroom training, 2,000 hours on-the-job training)

Shop Production
Fume and Exhaust System Design
Fabrication IV: Review
Air Balance
Introduction to Crew Leader Skills
Sheet Metal Code Review
Troubleshooting Gas Heating
Your Role in the Green Environment