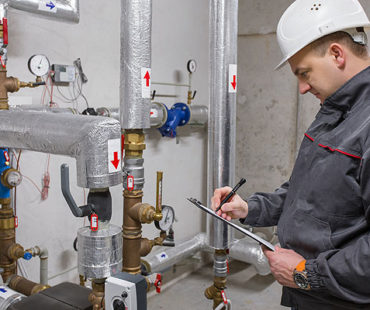 Salary Ranges
(entry level –> experienced)
$13.45 – $27.86 (hourly)
$27,970 – $68,830 (annual)

The program requires 576 hours of classroom instruction and 8000 hours of on-the-job training.
Plumbers assemble, install, and repair pipes, fittings, and fixtures of heating, water, and drainage systems, according to specifications and plumbing codes. They install and maintain pipe systems that carry water, steam, air, or other liquids or gases.
A plumber's tasks and skills include: determine installation, service, or repair needed; estimate time or cost for installation, repair, or construction projects; assemble and install pipe sections, fittings, or plumbing fixtures; cut, end, or thread pipe for gas, air, hydraulic, or water lines; install underground storm, sanitation, or water piping systems; install or repair household appliances; pressure test piping system or equipment for leaks; repair or replace gas, steam, sewer, or water piping or fixtures; braze, solder and weld metal parts or components together; verify levelness or verticality, using level or plumb bob; read blueprints, specifications, and technical drawings.
1st Year Apprentice
(144 hours classroom training, 2,000 hours on-the-job training)

Introduction to the Plumbing Profession
Basic Safety
Plumbing Safety
Introduction to Construction Math
Plumbing Math
Introduction to Hand Tools
Introduction to Power tools
Plumbing Tools
Introduction to Construction Drawings
Introduction to Plumbing Drawings
Plastic Pipe and Fittings
Basic Rigging
Basic Communications
Employability Skills
Material Handling
Basic Rigging
Copper Pipe and Fittings
Cast-Iron Pipe and Fittings
Carbon Steel Pipe and Fittings
Corrugated Stainless Steel Tubing
Fixtures and Faucets
Introduction to Drain, Waste and Vent Systems
2nd Year Apprentice
(144 hours classroom training, 2,000 hours on-the-job training)

Plumbing Math II
Reading Commercial Drawings
Installing and Testing DWV Piping
Hangers, Supports, Structural Penetrations and Fire Stopping
Installing Roof, Floor, and Area Drains
Types of Valves
Installing and Testing Water Supply Piping
Installing Fixtures, Valves and Faucets
Introduction to Electricity
Welding
Installing Water Heaters
Fuel Gas Systems
Servicing Fixtures, Valves and Faucets
3rd Year Apprentice
(144 hours classroom training, 2,000 hours on-the-job training)

Applied Math
Sizing Water Supply Piping
Potable Water Treatment
Backflow Preventers
Types of Venting
Sizing DWV and Storm Systems
Sewage Pumps and Sump Pumps
Corrosive Resistant Waste Pumping
Compressed Air
10-Hour OSHA
Your Role in the Green Environment
4th Year Apprentice
(144 hours classroom training, 2,000 hours on-the-job training)

Business Principles for Plumbers
Water Pressure Booster and Recirculation Systems
Indirect and Special Waste
Hydronic and Solar Heating Systems
Servicing Piping, Systems, Fixtures, and Appliances
Introductory Skills for the Crew Leader
Code Books Review
Reading Blueprints
Copper Joints and Brazing
Sustainable Construction Supervisor