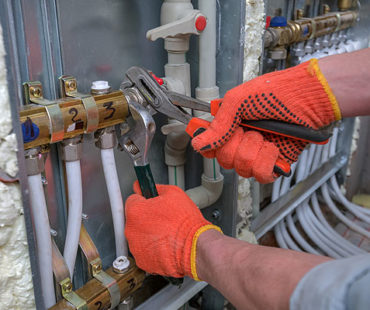 Salary Ranges
(entry level –> experienced)
$13.45 – $33.09 (hourly)
$27,970 – $68,830 (annual)
The electrical program requires 576 hours of classroom instruction and 8000 hours of on-the-job training.
Pipefitters lay out, assemble, install, and maintain pipe systems, pipe supports, and related hydraulic and pneumatic equipment for steam, hot water, heating, cooling, lubricating, sprinkling, and industrial production and processing systems.
Pipefitters need strong problem-solving skills and manual dexterity. They need physical stamina. Primary skills include: Lay out piping systems; cut, bend, or thread pipe for gas, air, hydraulic, or water lines; assemble and install pipe sections, fittings, or plumbing fixtures; braze, solder and weld metal parts or components together; pressure test piping system or equipment for leaks; repair or replace gas, steam, sewer, or water piping or fixtures; read technical drawings and blueprints; use arc welding and brazing/soldering equipment; use combination welding procedures; follow safety procedures.
1st Year Apprentice
(144 hours classroom training, 2,000 hours on-the-job training)

Orientation to the Trade
Basic Safety
Construction Math
Introduction to Hand Tools
Introduction to Power Tools
Introduction to Blueprints
Basic Rigging
Basic Communication Skills
Basic Employability Skills
Pipefitting Hand Tools
Pipefitting Power Tools
Oxyfuel Cutting
Ladders and Scaffolds
Motorized Equipment
2nd Year Apprentice
(144 hours classroom training, 2,000 hours on-the-job training)

Piping Systems
Drawings and Detail Sheets
Identifying and Installing Valves
Pipefitting Trade Math
Threaded Pipe Fabrication
Socket Weld Pipe Fabrication
Butt Weld Pipe Fabrication
Excavations
Underground Pipe Installations
3rd Year Apprentice
(144 hours classroom training, 2,000 hours on-the-job training)

Rigging Equipment
Rigging Practices
Standards and Specifications
Advanced Trade Math
Motorized Equipment II
Introduction to Above-Ground Pipe Installation
Field Routing and Vessel Trim
Pipe Hangers and Supports & Spring Can Supports
Testing Piping Systems and Equipment
10-Hour OSHA
4th Year Apprentice
(144 hours classroom training, 2,000 hours on-the-job training)

Advanced Blueprint Reading
Advanced Pipe Fabrication
Stress Relieving and Aligning
Steam Traps
In-Line Specialties
Special Piping
Hot Taps
Maintaining Valves
Introduction to Crew Leader Skills
Your Role in the Green Environment