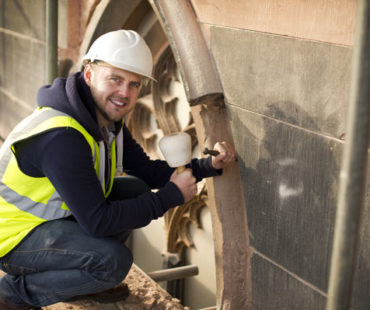 Salary Ranges
(entry level –> experienced)
$13.81 – $30.50 (hourly)
$28,730 – $63,440 (annual)
The masonry program requires 432 hours of classroom instruction and 6,000 hours of on-the-job training.
Masons lay and bind building materials, such as brick, structural tile, concrete block, cinder block, glass block, and terra-cotta block, with mortar and other substances to construct or repair walls, partitions, arches, sewers, and other structures.
The most desired qualities in a (brick) mason are dependability and a strong work ethic. Knowledge of basic math (including measurement, volume, mixing proportions, plane geometry) and mechanical drawing is important in this trade. Specific skills include: interpret blueprints and drawings to determine specifications; calculate the materials required; lay and align bricks, blocks, or tiles to build or repair structures; move or lift heavy objects; read blue prints and technical drawings.
1st Year Apprentice
(144 hours classroom training, 2,000 hours on-the-job training)

Basic Safety -10-Hour OSHA
Basic Employability Skills
Construction Math
Introduction to Hand Tools
Introduction to Power Tools
Basic Communication Skills
Basic Employability Skills
Introduction to Material Handling
Basic Rigging
Introduction to Construction Drawings
Introduction to Masonry
Masonry Safety
Masonry Tools and Equipment
Measurements, Drawings, and Specifications
Mortar
Masonry Units and Installation Techniques
2nd Year Apprentice
(144 hours classroom training, 2,000 hours on-the-job training)

Residential Plans and Drawing Interpretation
Residential Masonry
Grout and Other Reinforcement
Metal Work in Masonry
Advanced Laying Techniques
Construction Techniques and Moisture Control
Construction Inspection and Quality Control
3rd Year Apprentice
(144 hours classroom training, 2,000 hours on-the-job training)

Masonry in High Rise Construction
Specialized Materials and Techniques
Repair and Restoration
Commercial Drawings
Estimating
Fundamental Skills for the Crew Leader
Site Layout I – Distance Measurement and Leveling