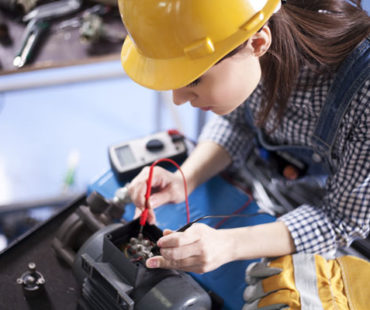 Salary Ranges
(entry level –> experienced)
$13.97 – $34.96 (hourly)
$29,060 – $72,730 (annual)
The electrical program requires 576 hours of classroom instruction and 8000 hours of on-the-job training.

Electricians install, maintain, and repair electrical wiring, equipment, and fixtures; ensuring that work is in accordance with relevant codes. Electricians may install service streetlights, intercom systems, or electrical control systems along with a variety of other tasks.
Primary skills include: analyze operation of malfunctioning electrical or electronic equipment; bend and install tubing and conduit; install electrical fixtures or components; install electronic power, communication, control, or security equipment or systems; install or replace meters, regulators, or related measuring or control devices; lay out, string and install electrical wiring for buildings, etc.; inspect electrical installation for code conformance; repair or replace electrical wiring, circuits, fixtures, or equipment; use low-voltage and high-voltage apparatus; follow safety procedures; read technical drawings and schematics. Other skills needed to become an electrician include manual dexterity, eye-hand coordination, physical fitness, and a good sense of balance. They also need good color vision because workers frequently must identify electrical wires by color.
1st Year Apprentice
(144 hours classroom training, 2,000 hours on-the-job training)

Orientation to the Electrical Trade
Basic Communications and Employability Skills
Construction Math
Basic Safety and Electrical Safety
Hand Tools and Power Tools
Hand Bending
Introduction to Material Handling
Basic Rigging
Introduction to Electrical Circuits and Electrical Theory
Electrical Test Equipment
Introduction to the National Electrical Code
Raceways, Boxes and Fittings
Conductors and Cables
Introduction to Construction Specifications
Introduction to Construction and Electrical Blueprints
Residential Electrical Services
Introduction to Green Building
10-hour OSHA Training
Basic Principals of Construction – Supplemental
Mathematics for Electricians – Supplemental
Interpreting the National Electrical Code – Supplemental
Electrical Experiments Laboratory Workbook – Supplemental
Understanding Construction Drawings – Supplemental
2nd Year Apprentice
(144 hours classroom training, 2,000 hours on-the-job training)

Introduction to Alternating Current (AC) Theory
Introduction to Inductance
Power and the AC Circuit
Capacitance
Capacitance, Inductive and Resistive Circuits
Power Factor Correction
Single-Phase Transformers
Motors: Theory and Application
Three-Phase Alternators
Three-Phase AC Circuits
Three-Phase AC Motors
Single-Phase AC Motors
Conduit Bending
Pull and Junction Boxes
Conductor Installations
Cable Tray
Conductor Terminations and Splices
Electric Service Installation
Grounding
General Grounding Principals
System Grounding
Grounding Electrode System
Enclosure, Raceway and Service Cable Grounding
Over Current Protection One, Two, and Three
Circuit Breakers and Fuses
Contactors and Relays
Lightning Fundamentals
CPR and First-Aid Training
Electrical Grounding and Bonding Supplemental
3rd Year Apprentice
(144 hours classroom training, 2,000 hours on-the-job training)

Load Calculations – Branch Circuits and Multi-Family Dwellings
Conductor Selection and Calculations
Voltage Drop – AC and DC
Intermediate Overcurrent Protection
Raceways, Boxes, and Fitting Fill Requirements
Wiring Devices
NEC and Distribution Equipment
Transformers
Lamps, Ballasts, and Components
Motor Calculations
Overload Protections for Motors
Disconnects for Motors
Distribution Equipment
Motor Controllers
Voice, Data, and Video Systems
Hazardous Locations
Hazardous Locations Wiring Methods
Solar Photovoltaics
American Electrician's Handbook – Supplemental
Electrician's Reference in Motors – Supplemental
4th Year Apprentice
(144 hours classroom training, 2,000 hours on-the-job training)

Load Calculations – Feeders and Services
Advanced Load Calculations
Leadership Class One
Introductory Skills for the Crew Leader
Health Care Facilities
Special Locations
Standby and Emergency Systems
Generator Installation One and Two
UPS and Battery Storage Systems
Electronics
Introduction to Fire Alarm Systems
Specialty Transformers
Advanced Controls
HVAC Control Systems
Heat Tracing and Freeze Protection Systems
Welding Machines
Motor Operation and Maintenance
Medium-Voltage Terminations/Splices
How Green Fits in with International Codes
Your Role in the Green Environment
Construction Scheduling – Supplemental
Electrician's Reference in Motors – Supplemental