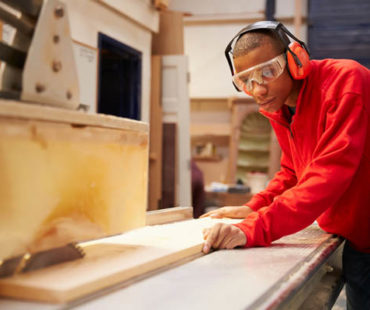 Salary Ranges
(entry level –> experienced)
$12.27 – $28.28 (hourly)
$25,530 – $58,820 (annual)
The carpentry program requires 576 hours of classroom instruction and 8000 hours of on-the-job training.

Carpenters construct, erect, install, and repair structures and fixtures of wood, plywood, and wallboard, using carpenter's hand tools and power tools.
Carpenters need manual dexterity, eye-hand coordination, physical fitness, and a good sense of balance. The ability to solve arithmetic problems quickly and accurately also is required.
Specific skills include: construct, erect, or repair wooden frameworks or structures; read specifications in blueprints, sketches or building plans; prepare project layout and determine dimensions and materials required; shape or cut materials to specified measurements; use hand tools, machines, and/or power saws; install structures and fixtures, such as windows, frames, flooring, and trim, or hardware; climb ladders and scaffolding; follow safety procedures.
1st Year Apprentice
(144 hours classroom training, 2,000 hours on-the-job training)

Basic Safety
Basic Employability Skills
Construction Math
Introduction to Hand Tools
Introduction to Power Tools
Basic Communication Skills
Basic Employability Skills
Introduction to Material Handling
Basic Rigging
Introduction to Construction Drawings
Reading Plans and Elevations
Introduction to Light Equipment
Safety Requirements with Concrete
Introduction to Concrete, Reinforcing Materials and Forms
Site Layout – Distance and Measurement
2nd Year Apprentice
(144 hours classroom training, 2,000 hours on-the-job training)

Properties of Concrete
Reinforcing Concrete
Handling and Placing Concrete
Rigging Equipment
Rigging Practices
Commercial Drawings
Trenching and Excavating
First Aid/CPR
Foundations and Slab-on Grade
Vertical Formwork
Horizontal Formwork
Tilt-up Panels
Welding
3rd Year Apprentice
(144 hours classroom training, 2,000 hours on-the-job training)

Floor Systems
Wall and Ceiling Framing
Windows & Exterior Doors
Roof Framing
Your Role in the Green Environment
Cold Form Steel Framing
Drywall Installation
Drywall Finishing
Exterior Finishing
Roofing Applications
Advanced Roof Systems
Thermal and Moisture Protection
10-Hour OSHA
4th Year Apprentice
(144 hours classroom training, 2,000 hours on-the-job training)

Site Layout – Angular Measurement
Doors and Door Hardware
Window, Door, Floor and Ceiling Trim
Review of International Building Code
Building Materials, Fasteners, and Adhesives
Cabinet Fabrication and Installation
Interior Finish Three: Window, Door, Floor, and Ceiling Trim
Advanced Wall Systems
Basic Stair Layout
Advanced Stair Layout
Introduction to Crew Leader Skills
Sustainable Construction Supervisor